Growing up, my favorite power forward was Kevin Garnett. Garnett can play on the block, shoot the mid-range consistently, occasionally shoot the 3, rebound, block shots, pass, hustle after loose balls, and ignite his teammates and the stadium with his passion. I personally liked him more than Tim Duncan, but I never denied the greatness of the Big Fundamental. I was just drawn to Garnett's passion for the game.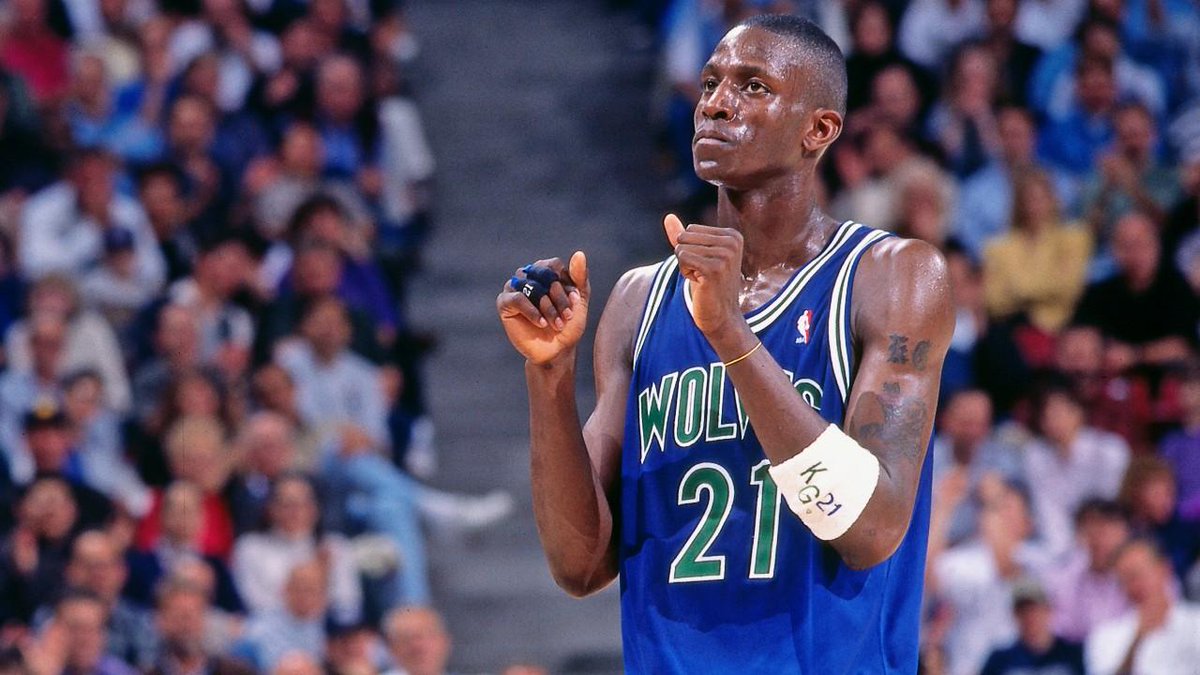 Before being traded to Boston after the 2007 season, I really feel that Kevin Garnett was underappreciated in the "Twin Cities". During his first 12 years with Minnesota, Kevin Garnett and the Timberwolves only made it out the first round one time (2004) with Latrell Sprewell and Sam Cassell, who were both past their primes. The Big Ticket's wingman for majority of his time in Minnesota was Wally Szczerbiak. KG and Stephon Marbury could've been a superb dynamic duo for years to come, but Marbury's ego and jealousy of Garnett's stature ended the partnership before it had a chance to take off. Kevin never complained about the lack of talent that the organization put around him (and believe me, they didn't help him at all). He brought out the best of his teammates and made the best of the situations during his first tenure with Minnesota.
Seeing KG in a Boston Celtics uniform was weird initially, but playing along side future hall of famers Paul Pierce and Ray Allen helped solidify his legacy as an all-time great. Getting over the hump and winning a championship against the Lakers, an organization that has tormented him his first 12 years, brought everything full circle.
Kevin Garnett is a 15 time NBA All-star, 9 time NBA All-Defensive first team, 4 time All-NBA first team, MVP back in 2004, NBA Champion in 2008 w/ Boston Celtics, all-time Minnesota Timberwolves leading scorer, was Illinois Mr Basketball, McDonald's All-America game MVP, and Mr. Basketball USA in 1995, and has career averages of 17.8 ppg, 10.0 rpg, and 3.7 apg. He was been apart of the NBA for majority of his life. Garnett was able to stay relevant for 2 decades (not many have ever achieved that).
During the 1997-98 season, Kevin Garnett signed a contract extension for 6 years, 126 million, which was unprecedented at the time. This contract, was not the cause of the NBA to be locked out the following season, it basically established the salary cap in the NBA. KG was a rare talent that just wanted to win and was willing to put everything on the line game in and game out. Garnett will potentially be apart of a hall of fame class in 2021 that will consist of Kobe Bryant, Tim Duncan and himself. Together they have a total of 48 NBA All-star appearances, 11 NBA Championships and 4 league MVP awards.
Now that his career has come to an end, we will forever remember the moments that he left us, especially saying "ANYTHING IS POSSIBLE!!!!!!" when they defeated in the Lakers in 2008 for the NBA title. Whenever Kevin Garnett laced them up, he was going to give you everything he had. That plus his passion is the reason they called him "The Big Ticket".
JGood