Growing up, there were only a few NFL players that really caught my attention because of their impact on the game. Deion Sanders is my favorite cornerback to ever lace 'em up. Randy Moss is my favorite wide receiver to step foot on the gridiron. My love for the quarterback position started with Steve Young and Brett Farve. All of them have inspired me and are now in the Pro Football Hall of Fame (except Randy Moss).
Since the dawn of time, quarterbacks have been known to stay in the pocket and deliver the ball to their targets. Until the impact of Warren Moon, the quarterback position has been predominately caucasian. Over the last 25 years, we've seen more diversity at the quarterback position. Also in that course of time, we have witnessed the evolution of dual-threat quarterbacks. We went from a few like Randall Cunningham, Donovan McNabb, and Dante Culpepper to the likes of Cam Newton, Russell Wilson, Aaron Rodgers, Colin Kaepernick, Dak Prescott, Alex Smith, Tyrod Taylor, and more.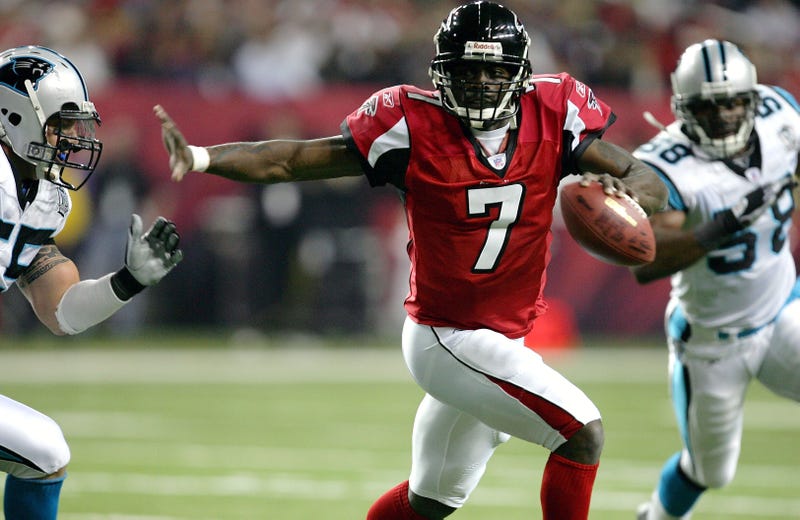 The pivotal reason for the surge of dual-threat quarterbacks in the NFL today was the emergence of Michael Vick in 2001. The former Virgina Tech star was the most electrifying quarterback in the history of the NFL. The number one overall pick, who ran a 4.25 40-yard dash time at the NFL Draft Combine, was embarrassing opposing defenses with his legs with his speed, agility, acceleration, and elusive juke moves. Also, he is the greatest video game athlete of all-time (if you played Madden 2004, you know what I'm talking about).

Michael Vick finished his career with 21,503 passing yards, 131 passing TDs, 6,109 rushing yards (most ever for a quarterback), 36 rushing touchdowns, and went to 4 Pro Bowls. The Atlanta Falcons lead the league in rushing from 2004-2006, spearheaded by Vick, Warrick Dunn, and T.J. Duckett. Michael Vick had his best success as an overall quarterback under Andy Reid with the Philadelphia Eagles, especially in 2010 (3,018 passing yards, 21 passing TDs, 6 INT, 676 rushing yards, 9 rushing TDs). Also, he had the greatest performance of his career that season in December against the New York Giants.
I'm not going to get into the dog fighting allegations again because it's irrelevant at the moment (CLICK HERE to check it out), and he has had injuries that have derailed some of his progress as a player. However, I believe he deserves to be in the Hall Of Fame. His statistics as a quarterback are probably not Hall Of Fame worthy, but his impact and legacy, to me, are enough credentials to get him in. Do you think Michael Vick should get in?
JGOOD